David Artee Outfitting has been a world class operation since 1995, outstanding service and personal attention has been the trademark of our success.
We are a detail oriented operation, we thrive to deliver a lifetime experience and great quality hunts all over the board.
Every hunt starts with the right guidance, magnificent spotters and trackers are provided to our clients, which makes your experience with us a very rewarding one.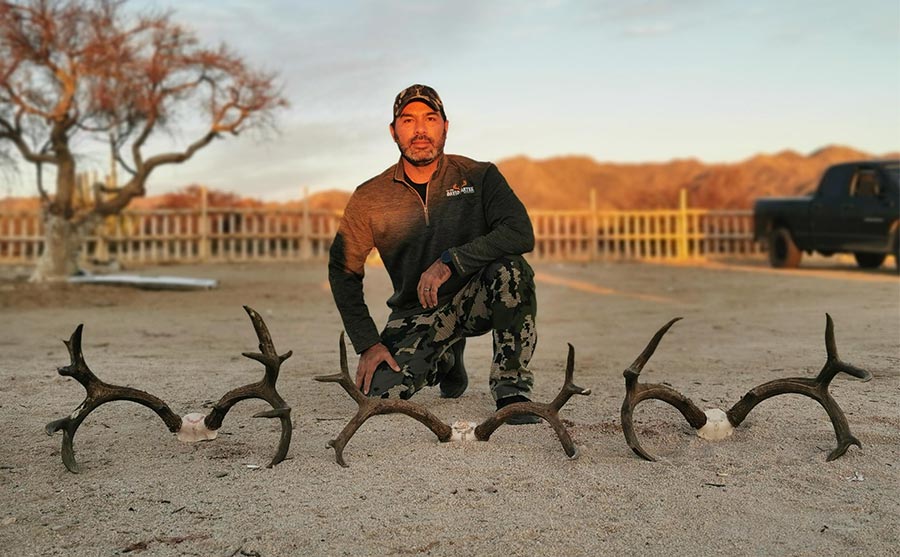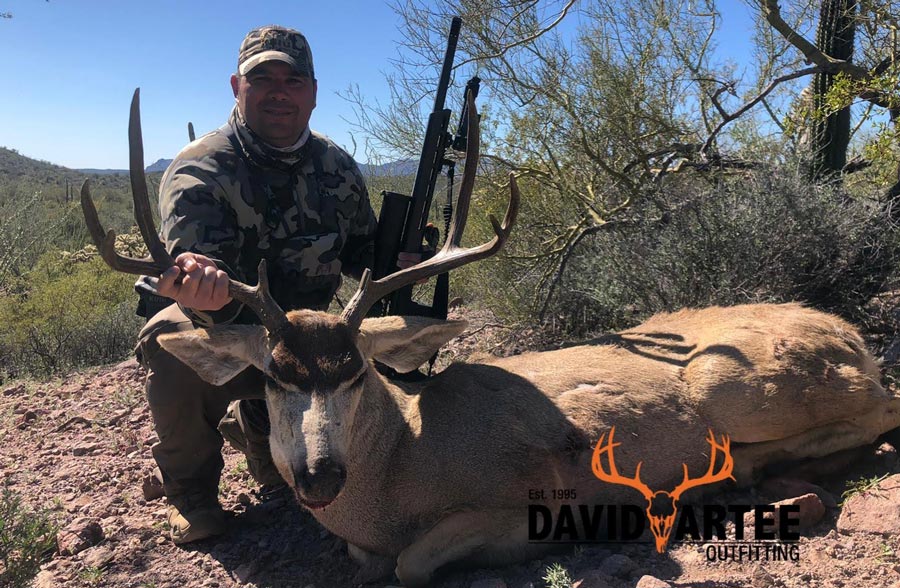 Ranch houses are nice clean Mexican style, with beds, showers, toilets, electricity and most have satellite TV. 70% of Mule Deer hunting is done from high racks. But hunters should prepare for spot and stalk with medium level hiking. Good quality boots and equipment equal to most western deer hunting is required. Coues deer hunting is 90% spot and stalk.
Hunters should bring flat shooting rifles in the 270 to 338 caliber with variable power scopes. Shots at deer will be from 50 to 400 yards. Hunters can take more than 1 deer during the hunt. Extra Mule Deer and or Coues Deer, Javelina, Bobcat and Mountain Lion fees are per hunt contract.
A wounded animal is a DEAD animal. Hunters can choose to look for the trophy during the remaining days, and or keep hunting for a second trophy at the contract rates.
Hunting temperatures will range from morning lows of 35 to mid day highs of 60 to 80 degrees. Gear from gloves, long underwear, water proof jacket and wool hats will be worn in the morning, then to t-shirts and sunglasses by mid day.
Ranch food is a great mix of American and Mexican. Drinks from soda, bottled water, juice and beer will be provided. A weekly menu will be provided for hunters to choose from. Anything special that hunters want to eat or drink should be asked for prior to arrival.
After hunt is over, Hunter will be brought back to Hermosillo. If a hotel stay in town is needed, cost of hotel is to be paid by hunter. S.O. will handle U.S. fish and wildlife papers at airport and packaging of antlers and hides.
Weather
Puerto Libertad, Sonora
Puerto de Libertad footage.
Puerto Libertad is a town and port in the Mexican state of Sonora, located on the northern coast of the Gulf of California, in the municipality of Pitiquito. Puerto Libertad is located at the geographic coordinates of 29 ° 54'15' N 112 ° 40'59' W and at an altitude of 10 meters above sea level.
Your API key has been restricted. You may upgrade your key at https://www.weatherbit.io.
1 Medium flannel shirt (long sleeves).
2 Light flannel shirts (long sleeves).
2 Pair of jeans.
1 Set of thermal underware (top, bottom).
4 Pair of medium socks.
2 Pair of cotton socks.
4 Pair of underware.
1 Rain jacket (light one but good quality).
1 Pair of leather gloves.
1 Pair of leather light hunting boots (well broken).
1 Pair of camp shoes.
1 Medium-heavy down jacket.
1 Light hunting jacket. 1 Rifle with scope and sling.
50 rounds of ammunition (per rifle).
1 Pair of binoculars (good quality 7×35, 8×40, 10×50).
1 Flashlight with fresh batteries and a spare set of them.
1 Day pack (light but sturdy).
1 Sleeping bag (a warm one, rated +40-10 F).
1 Towel and face cloth.
Any special medicine you need or think you might need (No drug stores within 200 miles).